When markets feel negative, it's good to be climate positive
20 June 2022 Sustainable Investing
This year has been a reminder of the oldest rule of markets: that the value of investments can go down as well as up. The war in Ukraine, supply chain problems, inflation – these and other challenges have created a bumpy ride for investors in 2022 so far. There's even talk of a mild recession, but we are definitely in a bear market. .
But markets are rarely as simple as they seem, particularly as we continue to grapple with unusual conditions following the pandemic and changing monetary policy across several central banks.
In this post, we'll take a closer look at where we are today, how climate-positive investing fits into the picture, and what our investment team is doing to deal with today's volatile environment.
More common sense… but less optimism
While today's charts can look scary, it's worth noting that for equity markets (stocks and shares), the numbers are back to where they were less than two years ago. Growth in 2021 was unusually high, driven by vast injections of capital by central banks and billions thrown at economies during Covid. It was a bit of a bubble, and now it's deflating. We think markets are coming back to their senses and valuations are gradually returning to reasonable levels.
That said, we strongly believe that inflation and risks of recession will continue to drive markets into the foreseeable future. Our investment strategy, as we'll explain, is designed to accommodate this more volatile environment.
Positive outlook for climate-positive themes
Before we explain how we're adjusting our strategy, it's worth noting that interest in the areas we follow is very much going up, not down. Clean mobility, green energy, sustainable food and the rest of the six megatrends we invest in all remain areas of growing focus worldwide. The S&P Global Clean Energy Index is positive on 3-5 year returns and the current energy crisis is accelerating plans for renewables.
The chart below shows that our portfolios have in fact been performing better than our benchmarks and the wider equities market*. They are doing well in terms of climate performance, too, remaining in line with a below 2 degree warming scenario and the 2018 Paris Climate Accords, according to our in-house analysis.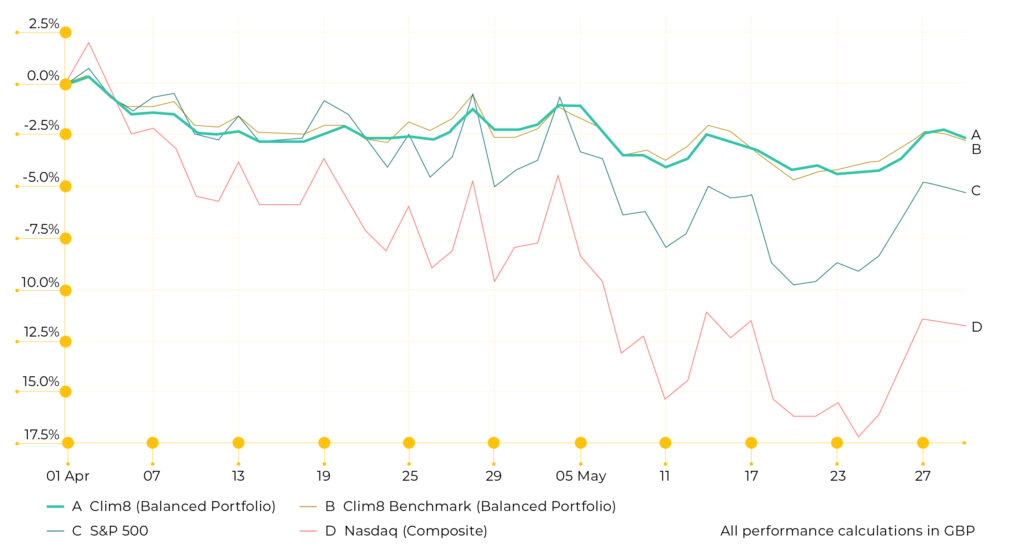 How we're responding to today's market environment
When markets are volatile as they are at the moment, our investment team makes nuanced moves that are designed to protect investors against undue losses while staying well positioned to capture recovery, especially in climate growth markets.
Here's what this strategy looks like.
1. Increasing our fixed income positions, particularly short duration sustainable bonds
Fixed income (bonds issued by governments or corporations) can usually be considered less risky than equities. And since the start of 2022, bonds have outperformed them. We've therefore increased our exposure to short duration fixed income bonds, which are less sensitive to interest rate hikes than longer-dated assets.
2. Managing risk by reducing our exposure to growth and smaller-cap stocks
We've done this because we believe the impact of rising inflation and interest rates will hit growth stocks hardest. For example, we've reduced our positions in Shoals and Fluence Energy, which have been particularly sensitive to market instability. And we don't feel confident that the Rize Sustainable Future of Food ETF (exchange-traded fund) will turn around its underperformance in the short term.
3. Finding sources of returns in your portfolio
There are still returns to be had in equities, though. For example, we've added United Utilities as a defensive stock. Water stocks generally have a more stable price – and even when the price fluctuates, their high dividend yield ensures more secure returns. And to replace our exposure to sustainable food, we have identified high-performing agriculture and fertiliser companies that are benefiting from high food prices and support for farmers.
One of these is Darling Ingredients, which produces innovative, zero waste biofuels and fertilisers made from farm by-products. We think the higher food commodity prices that are good for companies like this will stay high for the next 12-18 months. Higher prices also mean it's time to invest in more precise and efficient farming, allowing producers to reduce expensive inputs like fuel and synthetic fertilisers.
Corteva Agriscience, another one of our investment choices, helps farmers to produce more crops with less impact and higher resiliency to climate and weather effects.
Taking the long view
Climate investing is much better suited to a long-term strategy. This gives us the luxury of being able to sit tight through the current volatility and focus on what's driving growth in the long term. So, while markets may look negative today, we feel positive about tomorrow.
Want to learn more about climate positive investing? Head to Clim8.com.
Download the app now and start to invest