Use your account to access multiple risk types
23 June 2021 Inside Clim8
If you've ever wondered whether the feedback you leave us disappears into the ether, we can assure you that it doesn't, it flies straight to the desk of our Product team. Whether you've written to our Customer Service, left a review in the app store or participated in a round of research, we listen to it and make sure it's incorporated into our roadmap.
Over the last months many of you have been asking to have more flexibility when it comes to choosing investment risk types. Our Product and Engineering team took this to heart and we are now excited to announce our newest addition to the Clim8 app: Multiple Accounts. In short, you can now open up to four different accounts with us, including one Stocks & Shares ISA and up to three General Investment Accounts (GIA).
What does this mean for you?
With multiple accounts, spreading your accounts across different investment risk types is quick and easy. Depending on your financial goals you might want to have several accounts with different investment risk types to help you align your Clim8 investments both to your medium term and longer-term objectives.
How do I get started?
First things first, make sure you have the newest version of the app installed. In your main Dashboard, you will see the account you already have in 'Your accounts' and below a list of 'Available accounts'. Tap to learn more and open a new account in minutes.
Your main dashboard will show an overview across all your accounts, as well as individual account performance and valuation.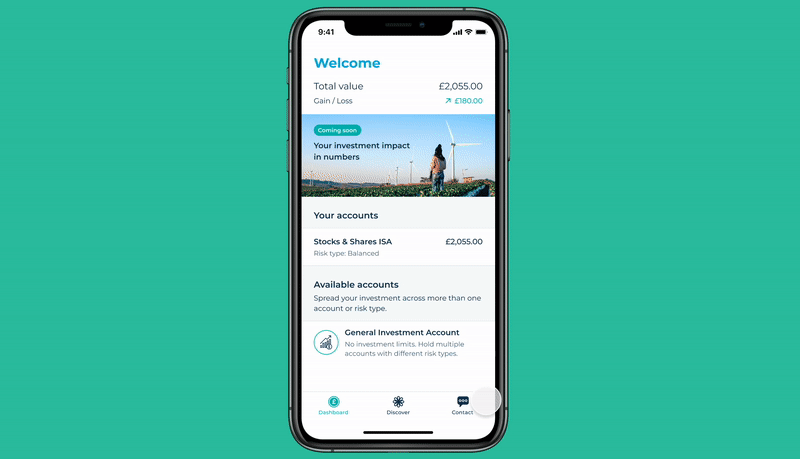 Can I select different risk types in my ISA?
At Clim8 we're firm believers in getting features out to you as quickly as possible and then improving them based on your feedback. The truth is, with the limit on the number of ISAs you can open and the amount you can contribute in a single tax year, it's a bit more complex to support multiple ISAs.
We know some of you want to spread your ISA allowance across multiple investment risk types so we're looking to add this functionality very soon.
Get started today and make the most of your sustainable investments.
Got more questions? Take a look at our FAQs or contact us under support@clim8invest.com
With investing, your capital is at risk. The tax treatment depends on the individual circumstances of each client and may be subject to change in the future.
Download the app now and start to invest